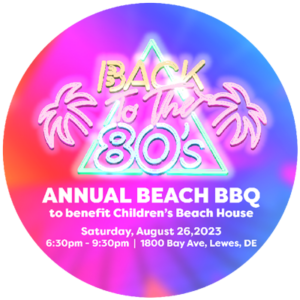 2023 Beach BBQ
Back to the 80's theme!
Saturday, August 26, 2023
6:30pm – 9:30pm
1800 Bay Avenue, Lewes, DE
The Beach BBQ, also known as "the feel-good party of the summer" is going back to the awesome 80's this year! Grab your leg warmers, neon headbands and boomboxes, and let's take it back to the era of big hair and even bigger hits. Don't be a square (no offense, Rubik's Cube), join us for a gnarly night of totally tubular fun to benefit the programs and services that Children's Beach House provides to children and families throughout our communities.
FEATURING
A BODACIOUS buffet by Chaps Pit Beef and our own Chef Paula
MEGA FUN music and entertainment with DJ Shelly
GNARLY beer and wine bars
Paradise Grill's RIGHTEOUS orange crush bar
Iconic 80's personalities
RADICAL live and silent auctions
An AWESOME art show featuring local artists
AND MORE!
We encourage everyone to get into the theme with the attire! But we know it's hot in August… so if you aren't dressing up in MJ's "Thriller" leather jackets or going head to toes in distressed denim, feel free to just dress in your summer casual attire.
THANK YOU TO OUR SPONSORS!
Platinum Sponsors
Britt Family Trust
Edward Joseph Chrzanowski
Igstaedter Foundation
iHeart Media
Incyte
The Rosella Family
Gold Sponsors
GGA Construction
Tom and Jamie McDonald
John and Michele Schultz
Kathy and David Shelton
The Sheridan Group
David White and Kathleen Jennings
WSFS Cares Foundation
Silver Sponsors
Artisans' Bank
Beacon Pediatrics
Beacon Hospitality
Calagione Family Foundation
Emory Bevill & Chris Holt
Ellison M. Carey
Fred and Marian Cottrell
Alexandra Ergon
Federico Family Party
Bob and Linda Gibson
Pres and Linda Lee
Rita and Ronald Lee and Family
The Lee Ann Wilkinson Group
Nicola Pizza
Leo and Kathy Oberto
Jeff & Anne Poorman
Emilee Reynolds
Michelle Rollins
Jeffrey and Ida Rowe
Sandra Skidmore
Setting Properties, Inc.
Robert Wiest and Darin Dell
Bronze Sponsors
Big Fish Charitable Foundation
County Bank
David and Chris DeClark
Tammy Chincheck
Jim and Mary Culley
Jim and Karen Falk
Bobby and Linda Fischer
Glenn and Jean Hitchens
Mark and Angela Holodick
La Vida Hospitality
Larisa Looby
Pratt Insurance
Rehoboth Breeze
Dr. Lowell Scott
Trudie Thompson
Bill and Mary Jane Willis
Wilmington University
Special Thanks to:
Chaps Pit Beef
Freedom Boat Club
Paradise Grill