A NEW HOLIDAY TRADITION HERE IN LEWES!
The #LewesLights tours gave us an opportunity to reach people who may not have otherwise known that our organization existed! It quite literally put us "on the map" for a lot of people who didn't know who we are, where we're located, and what we do.
We took that opportunity and hosted a Hot Dog and Hot Cocoa stand where we passed out cookies, refreshments, stuffed animals, and information about Children's Beach House to the spectators who came through looking at all of the decorations on the Lewes Lights tours.
There were HUNDREDS of cars full of people over the course of a weekend. Hundreds of smiles from new faces. And hundreds of happy children getting a surprise stuffed animal and a hot chocolate on a magical night of holiday lights.
WHAT IS LEWES LIGHTS?
In an effort to close out a year of darkness with bright light and holiday joy, co-chairs, Christian Mullins & Debra Evalds, founded "Lewes Lights" a fun & free community activity for all to enjoy.
Lewes (DE) homeowners & businesses were invited to decorate their home exteriors for the holiday season. Then in December, the interactive driving tour map is released to the public, leading the way to all the decorated homes in Lewes for spectators to view.
A HELPING HAND.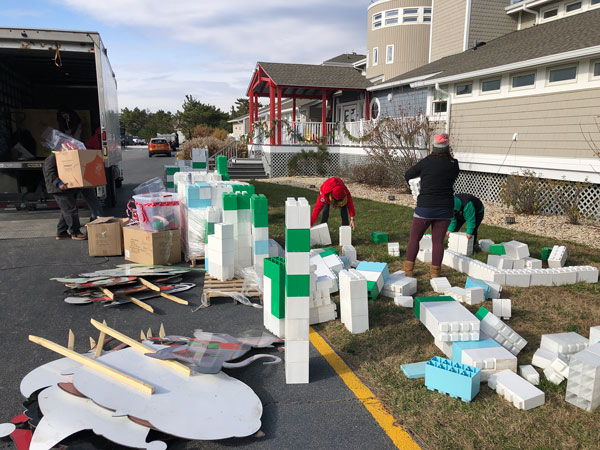 Thanks to a volunteer team from the Schell Brothers, the decorations they brought, and the dozen+ hours they spent setting up the display… the holiday vibe at Children's Beach House was taken over the top!
Giant lego snowmen (amongst other holiday characters) were surrounded by lights and beautifully decorated trees to complete the vignette. Needless to say, the final result was incredible! We are so thankful to receive this help from Schell Brothers; for helping make CBH a must-see destination on the Lewes Lights tour, and for spreading the Holiday spirit.