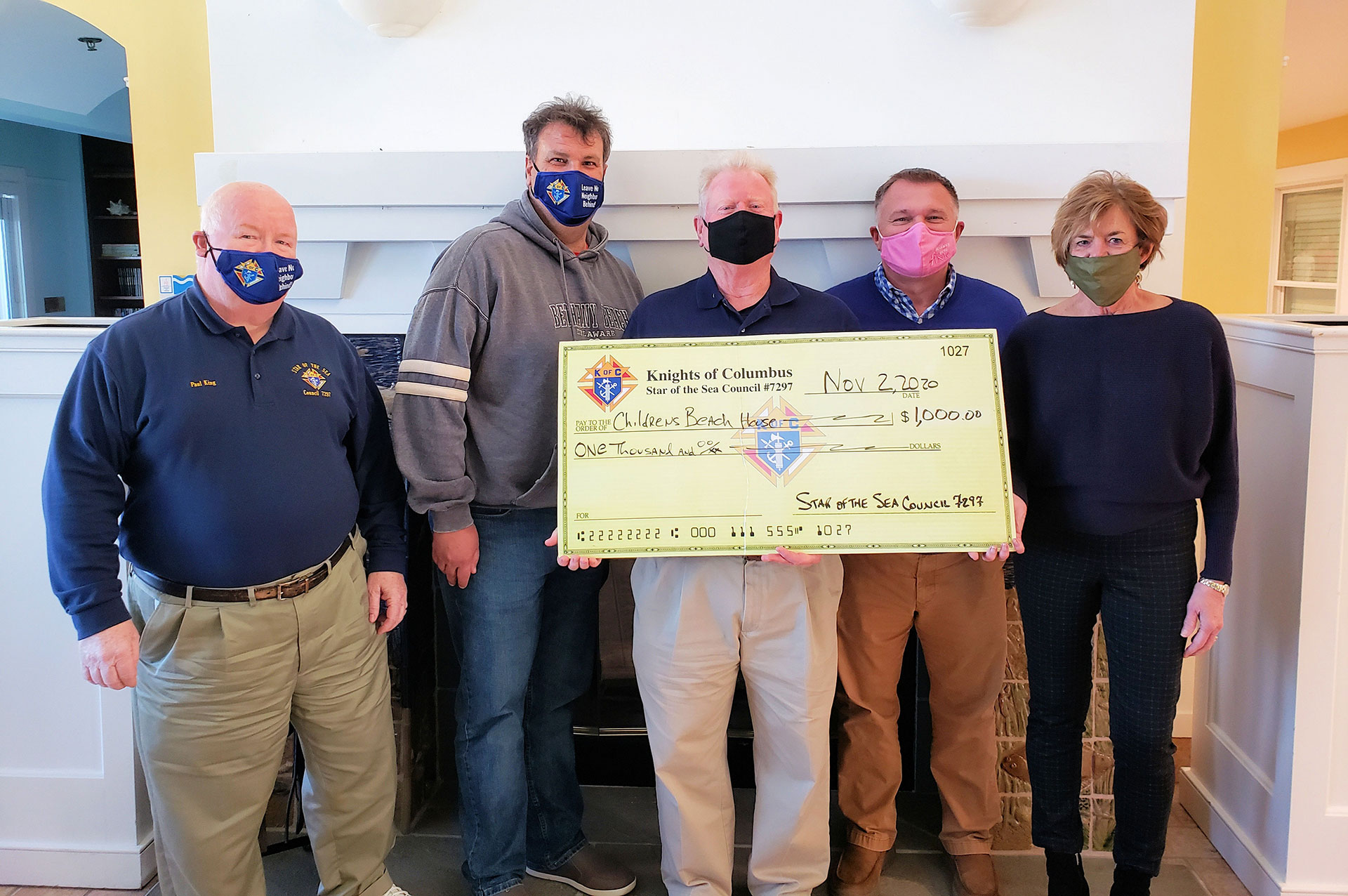 Check presentation from Knights of Columbus to Children's Beach House.
The Knights of Columbus Star of the Sea Council 7297, affiliated with St. Edmond Roman Catholic Church in Rehoboth Beach, gives a $1000 donation to the Children's Beach House in Lewes.
In presenting the gift, Grand Knight Richard Duffy said, "Our programs and projects draw men closer to their faith, families and communities, and defend life in all stages and in all conditions within a framework that we refer to as Faith In Action. An important part of our Life program is our Tootsie Roll Drive; 100% of the proceeds from that activity are dedicated to support individuals with special needs."
The mission of CBH is to continue Lydia Chichester du Pont's vision to help children with special needs reach their highest potential as functioning members of their families and communities. COVID-19 has interrupted or altered services for kids and families. In addition, it disrupted all of their special fund-raising events causing a very large loss of funding.
"Our greatest need right now is in keeping families connected to CBH – which means we have helped several with internet access and have provided laptops for families who didn't have the proper equipment. This is how funds donated by the Knights of Columbus will be used – to continue to support internet connection and to make sure each family has an appropriate connective device. This is critical to keep kids connected; not only to CBH, but to their schools, communities, and extended families."   -Richard Garret, Executive Director of CBH
Star of the Sea Life Program Chair Jim Hendrick said, "We are proud to be associated with Children's' Beach House and to be able to provide this assistance to very special young people and their families."